Playground Safety Surfacing San Diego Is Your Best Option For All Of Your Playground Equipment And Recreational Needs
We have become a leader in San Diego's playground and recreational business and the neighboring region due to our everlasting commitment to our clients and projects. Give us a call at Playground Safety Surfacing today. 
Family is important to us. We are a family-owned and operated company with significant roots in our community. Many of our customers become lifelong friends and family members.
Our Team
We recognize that in business, people make a difference. Our team is available to assist you at every stage of your project or transaction. We have the experience and understanding to ensure that your project is successful. Our playground firm has a reputation for being dependable, knowledgeable, and trustworthy.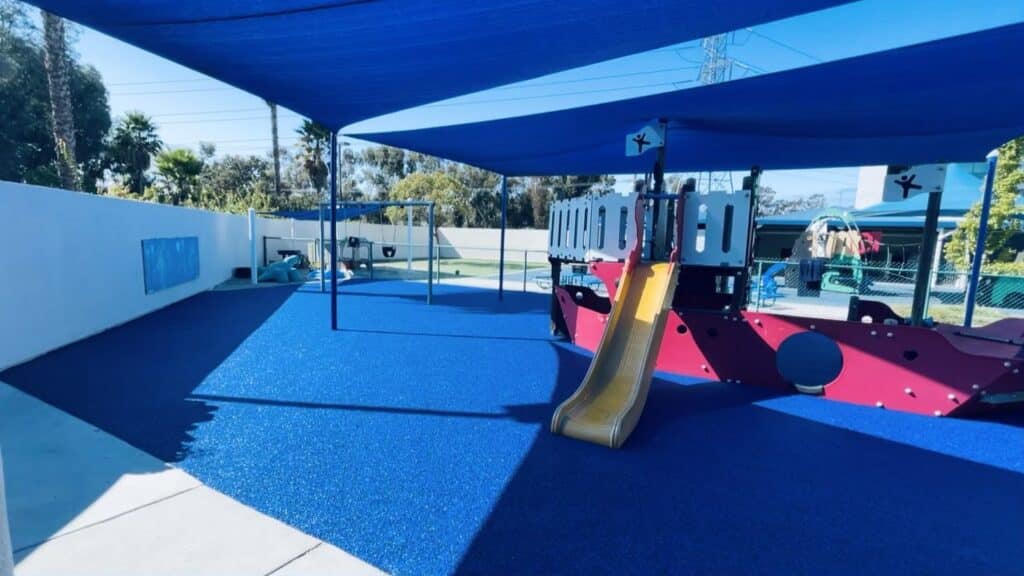 We are NPSI Certified Playground Safety Inspectors and qualified general contractors. Over 100 projects have been completed successfully. We are your one-stop-shop for all your recreational and playground equipment requirements.
We provide comprehensive solutions to assist our customers in rapidly and professionally completing their playground and recreational projects. We take pride in being a family-owned and run playground company that has been servicing communities around the country with unsurpassed customer attention for the past decade.
We manage projects of all sizes and forms, from modest church playgrounds to huge municipal parks and other outdoor areas.
Safety Surfacing Services
Our company uses cutting-edge surfacing technology to keep your children safe while also providing a fun and open playground.
Poured-In-Place Rubber
The poured-in-place rubber playground surfacing developed by our firm is designed to be long-lasting, low-maintenance, and cost-effective. Throughout the United States, our team of skilled installers has executed poured-in-place rubber installations, including rooftops!
Bonded Rubber
Playgrounds have existed for as long as loose-fill protective surfaces and mulch materials have been available. Our bonded rubber provides a low-cost, easy-to-install safety surface for your playground.
Rubber Tiles
Rubber tiles provide a degree of confidence in terms of safety that no other playground surfacing material can equal. Every year, nearly 200,000 children are wounded on playgrounds in the United States. Many of these injuries are caused by youngsters stumbling on slick surfaces. Our company offers a long-lasting and stylish rubber tile as a solution to this problem.
Synthetic Grass
At our company, the grass is actually greener! We have a large selection of synthetic grass available and can install it on practically any structure or property. Playing fields, putting greens, yards, and playgrounds may all benefit from the artificial grass.
Synthetic Turf
Synthetic grass is commonly seen on sporting fields around the United States and playgrounds, indoor entertainment spaces, and dog parks. Artificial turf consists of synthetic grass blades and rubber or sand-infill materials designed to look like genuine grass but with far better impact absorption.
Bonded Rubber Mulch
Rubber mulch, manufactured from recycled tires, provides the finest fall protection for any safe surface. Bonded rubber mulch is a low-maintenance and cost-effective playground option that also offers outstanding fall protection.
EPDM Rubber
Our company's Poured in Place (PIP) Rubber is the most popular playground surface solution. Our companies' products provide a smooth, open playing field. The EPDM PIP system comprises two primary layers with a nice cushioned feel.
So give our experts at Playground Safety Surfacing a call right away!
Below is our list of additional services:
Safety Surfacing
Poured-In-Place Rubber
Bonded Rubber
Rubber Tiles
Synthetic Grass
Synthetic Turf
Bonded Rubber Mulch
EPDM Rubber
Playground Safety Surfacing
Locations We Serve
We offer the above surfacing services at the following locations within San Diego:
Fill out the next form and send it directly to Playground Safety Surfacing inbox, as soon as possible we will reply your mail or call you back.
For more information you can also contact us by the following telephone numbers: