Playgrounds Poured In Place Rubber In San Diego
Playground Safety Surfacing's rubber playground surfacing is meant to be long-lasting, low-maintenance, and cost-effective. Our skilled installers have conducted poured in situ rubber installations across the United States, even on roofs! Our special binders are engineered to withstand UV degradation and exclusively employ Germany's finest grade EPDM granules.
Because of the versatility of poured in situ, rubber flooring may be utilized for a wide range of applications, including playgrounds, entryways, exercise areas, walking trails, and other locations where a non-slip, soft surface is desired. Although this surface was initially intended for playgrounds, its advantages have been recognized, and it is now widely utilized in other areas.
Certified Products
All of our surface materials have been independently certified to satisfy CPSC, ASTM, and IPEMA quality requirements.
No Guess Work
Our playground surfacing professionals will create the ideal system for you, taking care of all the specifics.
Safety Guaranteed
All of our surface materials are put through rigorous testing to ensure that they meet or exceed ASTM, IPEMA, and CPSC safety standards.
Professional Installation
Installing the Icon Final Professional Installation Our certified and skilled surface installers guarantee a hassle-free professional playground surfacing installation.
Need help estimating your project?
Products & Services
Poured in Place Rubber Surfacing
Durable, Affordable Rubber Surfacing
Rubber playground safety surfacing that has been poured in situ is both attractive and long-lasting. Expert installation and high-quality supplies are essential for a long-lasting poured-in-place rubber surface, and we supply both at Poured In Place. We can create complex patterns and attractive unique layouts with poured-in-place rubber goods. Our poured-in-place rubber surface installations are completely ADA compliant and meet or exceed ASTM 1292 specifications. Only specialists should install your poured in situ rubber playground surfacing, making sure that the right foundation materials, slopes, products, and drainage are all taken into account.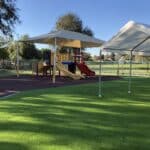 Durable Construction
Our poured-in-place rubber systems are built to last and can resist a lot of wear and tear.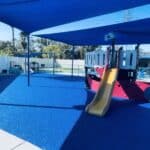 Seamless Installation
When put appropriately, poured in situ rubber is a smooth and seamless playground safety surface.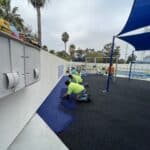 Low Maintenance
After installation, poured-in-place rubber is essentially maintenance-free, saving you time, effort, and money.
Benefits
Benefits of Poured In Place Rubber
The poured-in-place rubber playground surface is the most recent and most advanced playground surfacing invention to date. Rubber mulch that is poured in situ offers all of the benefits of typical rubber mulch but none of the drawbacks of loose fill. Poured in situ rubber is made up of two layers and is made in a unique two-step method. Shredded rubber makes up the bottom layer, while multicolored rubber granules make up the upper layer. A polyurethane binder holds the rubber together.
The result is a smooth solid surface with the same impact absorption capabilities as rubber mulch but without the inconvenience of loose-fill playground surfaces. Intricate designs, patterns, lines, curves, and inlaid pictures and forms are all possible using poured in situ rubber. By far, the most appealing playground surface now available is poured in situ rubber. Poured-in-place rubber has been known to last for over 20 years.
Q&A
Answers to Common Playground Surfacing Questions
A number of factors influence the cost of a poured-in-place surface system. The cost varies greatly based on the subsurface utilized, the system's thickness required, colors, and site preparation requirements, to mention a few factors. The greatest thing you can do is get a quotation from us so that we can ensure you're getting the correct pricing.
Yes, when exposed to heat and sunshine for lengthy periods, poured in situ rubber will get heated. However, it does not retain heat in the same way that other surfaces, such as asphalt, do.
The quality of the product, the installer's skill, UV exposure, and upkeep are all variables that influence how long a poured-in-place rubber surface system will survive. Most surfaces have a 10-year average life expectancy.
Poured in Place Rubber Surfacing Inspirations
Limitless Possibilities
Fill out the next form and send it directly to Playground Safety Surfacing inbox, as soon as possible we will reply your mail or call you back.
For more information you can also contact us by the following telephone numbers: