Designing Playgrounds With Poured Rubber Safety Surface In San Diego
Are you looking for skilled installers to finish your playground designs? To install surfaces in and around their projects, Playground Safety Surfacing collaborates closely with playground designers and landscape architects.
For its clientele, playground designers create extremely inventive play environments. Playgrounds that are truly enjoyable are built from the ground up, including physically on the ground. A poured surface is an excellent backdrop for a themed playground. Beautifully themed playsets, such as jungle animals, tree huts, fire engines, and even fish and other marine creatures, are available from playground equipment suppliers. Why not extend the design to the rubber surface with patterns, shapes, and even animals
We'll also collaborate with you to ensure that the fall heights and safety criteria are in line with government guidelines.
Playground Safety Surfacing workers are not only specialists in installing concrete and tile surfaces, but they can also bring any design to reality. While you are bidding on a new project, we can assist you. In order to finish the job on time and on budget, we're pleased to build the surface around existing or new play equipment. We'll provide you with a quotation for replacing any existing surface and installing a new poured rubber playground.
Please contact us now to discuss your project, or fill out our Get a Quote form, and we will contact you as soon as possible.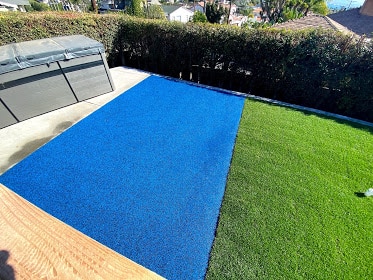 Are you looking for a new playground surface installer?
Poured Rubber Surfacing For Playgrounds Designers
Allow the Poured In Place installation professionals to collaborate with you to create a safe playground that complements your design. We are familiar with the rules and regulations and can assist you in meeting ADA and other safety needs. The rubber safety surface can be used both indoors and outdoors for a number of uses, including:
Outdoor Playgrounds
Indoor Playgrounds
Pool Decks/Areas
Parks & Recreational Departments
Schools
Daycare Centers
Recreational Centers
Military Family Housing
Recreational Centers
Gyms & Fitness Centers
…and more!
Frequently Asked Questions For Playground Designers And Landscapers
You may have concerns regarding the installation of playground safety surfacing as part of your playground design project. Here are some of the most often asked questions by playground and landscape designers with whom we collaborate. Please contact us if your question isn't answered here. We are pleased to answer any and all questions you may have concerning the playground and safety flooring installation and pricing. To find out the solution to any of the questions below, simply click on it:
The optimum moment to contact us is right when you're bidding on the project. We'll collaborate with you to decide the project's forms, colors, and safety surfacing needs. Then we'll provide you with accurate costs that you may include in your bid or proposal.
Yes. We recognize that several subcontractors, such as equipment installers and landscapers, may be engaged in the project. We'll collaborate with you to ensure that the surface is ready when you are.