How Much Does Poured In Place Rubber Cost In San Diego?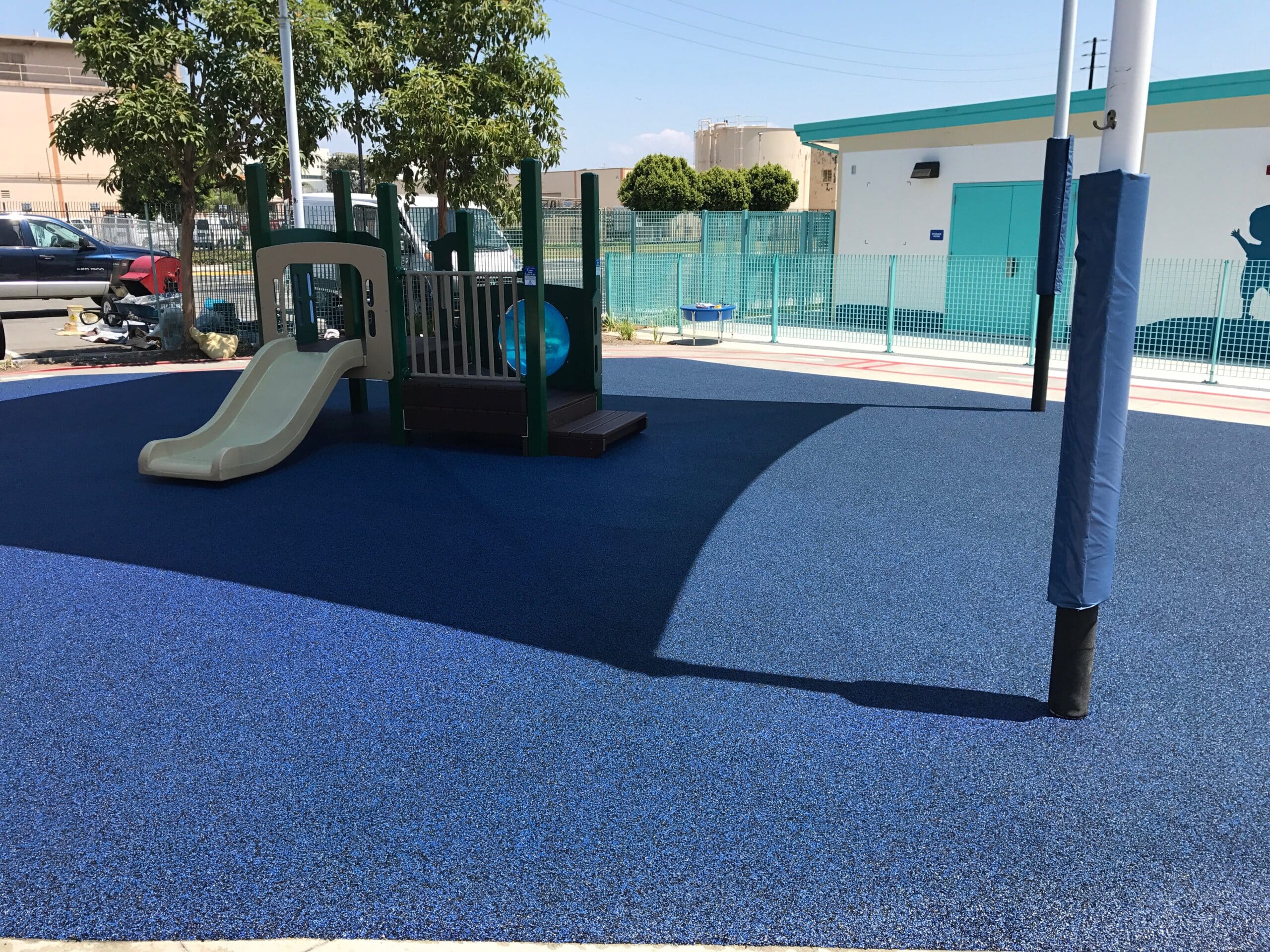 Wet pour rubber flooring, also known as poured in situ rubber surfacing, is a popular choice for outdoor playground flooring, daycares, schools, water-themed parks, and public parks. It has a long-lasting aesthetic appeal and limitless architectural flexibility. It can be created to a depth that provides a safe playing surface for children. Contact us at Playground Safety Surfacing. 
Consumers are inquisitive about the cost of poured rubber playground surfaces because of the unrivaled mix of safety and design. There are a few aspects to consider to better understand how much it would cost in your specific circumstance.
Setting The Foundation For Your Future Playground?
Traditionally, poured in situ rubber surface is placed over a layer of compacted aggregate. This aggregate ranges in price from $3 to $6 per square foot and must be laid out on a level, compacted surface. If your location is still an open field, you'll need to prepare it by removing the grass and smoothing the ground. Grading is the process of creating a level surface. Simply contact your playground contractor for a price, and they'll take care of the rest!
How Thick Would You Like The Poured In Place Rubber?
The foundation and wear layers are the two layers of poured in situ rubber. The thick, bouncy rubber on the bottom layer keeps the playground safe for kids. It's built at a depth corresponding to the playground's critical fall height. It may be up to ten inches thick at times! In most cases, the wear layer is less bouncy but more flexible. It's more durable, with UV protection, weather resistance, and typical wear and tears built-in.
The wear layer is usually half an inch thick and consists of EPDM (ethylene propylene diene monomer rubber), which is what you see on most playgrounds as multicolored grains. Rather, this isn't recycled; it's created for poured-in-place rubber playgrounds. The price of poured-in-place rubber surfacing is determined by the depth desired for the playground. The more rubber surfacing you desire, the more expensive it will be, but the safer the playground will be in the end. Depending on the features chosen, poured in place rubber costs around $10-$15 per square foot on average.
What Color Combinations Do You Want?
The EPDM wear layer can be made up of virtually any color combination. We take pleasure in the amazing color combinations we can create at Poured In Place. The cost of poured-in-place rubber is determined by the colors you wish to utilize in your combination.
Color granules are about four times more expensive than an alternative rubber since they are developed expressly for use in the wear layer. Most clients save money by using black SBR rubber granules to blend their desired hue. SBR rubber is less permeable than EPDM, but it is less expensive, which can help our clients save money in the long term.
Which Type Of Bonding Agent Do You Want To Use?
Aromatic and Aliphatic glues are the two major types of glue used to bond the poured in place rubber. Aromatic glue is usually less expensive, and the difference may be seen in its amber tint. It's an excellent choice for a 50/50 color mix of rubber granules.
The main disadvantage is that as the surface interacts with the sun's UV rays, the hue may become more amber with time. A clear but more costly bonding chemical, Aliphatic is the alternative choice. Our splash pad clients are more likely to utilize it in wear layers that are entirely made up of brighter colors.
After you've bought your playground surfacing, the most cost-effective approach to save money, in the long run, is to maintain it periodically. Playground Safety Surfacing offers a variety of playground maintenance, repair, and product options. We may either send you a DIY repair kit or send a team of our members to do preventative maintenance Refresh Roll Coat.
How Long Will Pour In Place Rubber Last?
Even with routine care, your playground surfacing will eventually need to be replaced. When comparing the cost of pour-in-place rubber to the cost of other playground surfaces, you need to know how long it will endure. Pour in place rubber, with adequate care, may endure for more than 8 to 12 years. Pour in place rubber, on the other hand, requires less upkeep than other playground surfaces.
Request A Quote
It's time to get started now that you've studied some of the major aspects that influence the price of wet pour rubber flooring. If you're still not persuaded that pour in situ rubber is the best option, visit Poured In Place's playground surface pricing comparison page to learn about available alternative options. Of course, the best method to find out how much pour-in-place rubber surfacing can cost is to receive an estimate from us! Our team of experts is eager to assist you in realizing your playground ideas.
---
---
---