5 Ways To Keep Poured In Place Rubber In The Best Condition In San Diego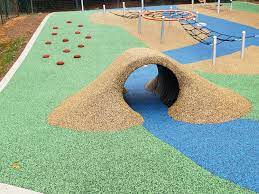 5 Ways To Keep Poured In Place Rubber In The Best Condition In San Diego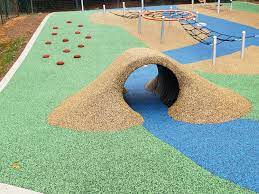 Considerations for suitable surfacing should include both environmental friendliness and safety. Wet pour surfacing and flooring are made to offer the highest level of security and durability. For all project types, we provide one of the top wet-pour surfaces. For every location, including sports courts, playgrounds, schools, splash parks, and more, our wet pour rubber surface installation is both affordable and ensures durability. 
It is crucial that we keep our mixing plants as close to the site as is practical since wet pour surfacing materials cure quickly. The wet pour rubber surface can be installed on top of a sufficiently hard site surface, such as concrete, tarmac, etc. 
Generally speaking, it's critical to ascertain how long the hard underlying layer will last. On a subpar base surface, installing a wet pour rubber surface will only result in maintenance costs. 
Due to the porous nature of the rubber safety flooring, it's critical to maintain the confined areas clean. This is particularly crucial to ensure that incoming water may flow through the surface without clotting on the playground and endangering safety. Other steps that should be taken for maintaining wet pour rubber surfaces are as follows: 
Maintaining A Spotless Surface 
As was previously stated, the wet pour rubber surface needs to be kept clean to prevent rotting and the formation of a layer that prevents drainage. Algae, moss, and other weeds might find a habitat if the layer forms. Debris and other types of pollution from the surface should be easily removed with routine cleaning by mild power washing and scrubbing. 
Dissolving Stubborn Stains 
Stains can be removed with ease by using hot water (avoid boiling water) and a cleaning solution. Oil stains and similar stains could be cleaned using methylated spirits and a piece of cloth. An aerosol freezer could also be used to get rid of chewing gum. 
Even while snow and ice won't affect a surface made of wet pour rubber, it's nevertheless vital to constantly scrape them off. The best removal tools are brushes or scrapers with rubber edges. The surface may be distorted by metal shovels and scrapers. Additionally, solvent-based de-icers shouldn't be allowed. 
FAQs
How Long Does It Take For Poured Rubber To Dry? 
Considering the temperature is over 40 degrees F, 24-48 hours. 
How Much Heat Can Rubber Withstand? 
Natural rubber shouldn't be utilized in applications where the temperature is constant and higher than 85 °C. That simply isn't high enough for several applications involving high temperatures. However, some synthetic rubber grades have been chemically designed to provide exceptional heat resistance above 300 °C. 
Which Playground Surface Is The Safest? 
Every fantastic playground surface is secure, up-to-date on testing, and aesthetically pleasing. However, engineered wood fiber is unsurpassed when it comes to safety (EWF). 
Even when kids play nonstop, our products will keep the surface in top condition. For additional details about repair and maintenance, get in touch with Playground Safety Surfacing at (888) 902-3777.
Conclusion
Get in touch with Playground Safety Surfacing at (888) 902-3777. We have worked hard to establish ourselves as the best supplier of playground surfaces and more.

---
---
---